Wild rice for breakfast? Oh yes!
Wild rice is not only delicious, it's also a nutritional powerhouse that unlike other types of rice, is easy to digest, and it's high in protein, fiber, magnesium and antioxidants. 
It also works well within a grain free diet because, wait for it… 
True Wild Rice is not really "rice" at all!
Shocking I know… But It's actually an aquatic grass seed that grows wild in the Great Lakes Region.

Important note: I'm talking about True 100% Wild Rice here. Not a "wild rice blend" that's mostly brown or red rice with a couple of wild rice seeds strewn in. 
I really like:
North Bay Trading Co Long Grain Canadian Wild Rice
or
Moose Lake's Hand Picked Wild Rice.
Now without further ado: The Wild Rice Pancakes! 
Growing up my mom used to make the most delicious rice pancakes. I started thinking about them the other day and dreaming up a healthier remix using gluten free ingredients and of course, Wild Rice!
I set out on Google and found this Wild Rice Pancake recipe from The Pioneer Woman and gave it a go switching up ingredients with some healthier options.
What I ended up with are absolutely delicious gluten-free, and easily made vegan pancakes brimming with Wild Rice!
The texture of these is delightful… Serve as you would regular pancakes, or really dive into the deliciousness of wildness and top with a quick Wild Blueberry Maple Syrup.
Wild Rice Pancakes with Wild Blueberry Syrup
Ingredients
Pancake Ingredients:
1

Cup

Wild Rice

(Cooked)

1.5

Cups

Gluten Free Flour Blend

¼

tsp

Salt

1

tsp

Baking Powder

2

T

Coconut Sugar

1 ¾

Cup

Milk or Milk Alternative

(I use So Delicious Unsweetened Organic Coconut Milk) 

1

Large

Egg

(Can also make a Flax Egg with 1 T Flaxseed Meal + 2.5 T Warm Water. Mix and let sit for 5 minutes)

½

tsp

Vanilla

1

T

Coconut Oil Melted
Easy Blueberry Syrup:
1

Heaping Cup

Wild Frozen Blueberries

(Can substitute organic frozen strawberries blueberries as well) 

Maple Syrup to Taste

(About ¼ Cup)
Instructions
Prep the Wild Rice: 
Cook 1 Cup Wild Rice according to package instructions and set aside. (Typically 1 Cup Wild Rice to 3 Parts Water). Skip adding any salt. 

Wild rice takes a long time to cook, so feel free to make it the night before and have it in the fridge ready and waiting.Start Your Blueberry Syrup:

Add frozen wild blueberries and maple syrup in a small saucepan. Simmer over medium heat until the blueberries are melted and a bit broken down.  
Pancake Time:
Mix Dry Ingredients together in a large bowl. 

(1.5 Cups Flour, ¼ tsp Salt, 1 tsp Baking Powder, 2 T Coconut Sugar)

Mix Wet Ingredients in a separate bowl. 

(1 ¾ Cup Milk, 1 Large Egg, ½ T Vanilla, 1 T Melted Coconut Oil) 

Stir the Wet Ingredients into the Dry Ingredient Bowl until just combined.  

Cook pancakes on a lightly buttered or coconut oiled skillet on Medium until golden brown.
Serve with a Blueberry Syrup and a generous amount of Butter.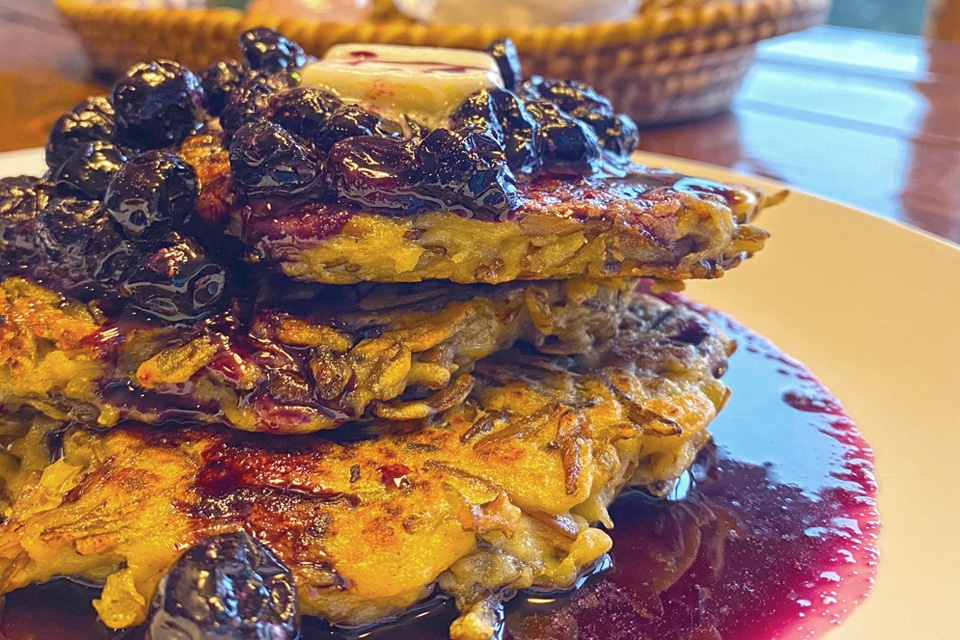 Have you tried Miyoko's Organic Vegan Butter? So good!
Enjoy!